A Law Firm Built by Family &
Committed to Client Services
At BKLG, when you call your lawyer, you get your lawyer. Our full service law firm proudly serves our community with a hands on, personalized approach.
Learn More
Residential
Real Estate Law
Taking time to explain the process, answer all questions and provide peace of mind
Commercial
Real Estate Law
Seamless assistance in the sale, purchase or acquisition of properties
Personal
Injury Law
Advocating for victims in motor vehicle accidents, slip and falls, wrongful deaths, and those with work related injuries.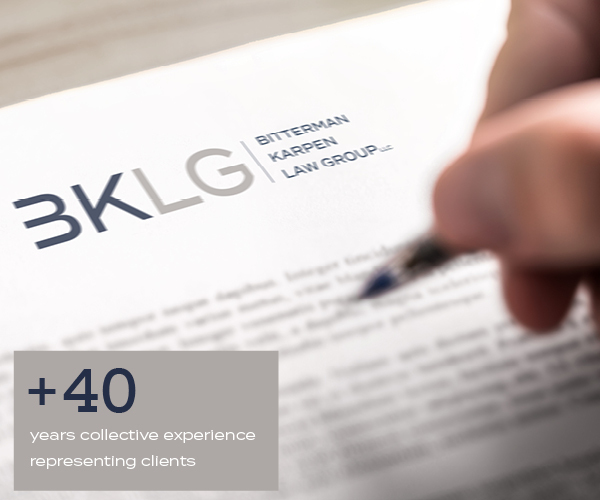 Why Bitterman karpen
Law Group
About Us
Bitterman Karpen Law Group, LLC, is a full service law firm, deeply rooted in, and serving with pride, the community which surrounds us. We offer over 40 years of collective experience as trusted advisors and counselors, and as zealous advocates for our clients.
No transaction or matter is too small. Each client is treated with respect, and each matter is handled with the highest level of skill, knowledge, and expertise. BKLG is truly a family business, which prides itself on personal attention and a devoted and friendly staff.
Steven B. Bitterman &
Jeri Bitterman Karpen
FOUNDING MEMBERS, BKLG LLC

Real Estate Transactions
Our attorneys provide counsel to Buyers and Sellers in both residential and commercial transactions; tackling simple and complex matters with the same professionalism and expertise.

Personal Injury Litigation
BKLG attorneys work tirelessly to advocate for those who are victims of accidents. These injuries can be the result of auto accidents, drunk driving accidents, motorcycle accidents, trucking accidents, slip & falls, dog bites, serious injuries and wrongful death.

General Business Transactions
Includes formation, administration and operation of small businesses, and the negotiation and drafting of a variety of business agreements and contracts.

Workers' Compensation
Representing employees entitled to compensation and other benefits for work related injuries. Injured workers can count on BKLG lawyers to fully explain their rights and to aggressively and efficiently seek the payment of the benefits they deserve.
Estate Administration and Probate
Our lawyers guide clients through the administration of a decedent's estate from probate, if required, through the distribution of assets. We also provide counsel in the drafting of wills and related estate planning tools.

Municipal Court Defense
We provide legal counsel in criminal record expungement proceedings. We represent clients in all communities defending motor vehicle violations, property citations and quasi criminal matters including assault, theft and like charges.
We're here to help with your legal needs.
I recently had the privilege of working with Steven Bitterman, Esq., in connection with a business acquisition. I could not be more pleased with his performance. He was "hands on," and always available to answer all of my questions. He has a strong business acumen -- working with an eye toward getting the deal closed, while still keeping all of my best interests in mind at all times. He is reliable, professional yet personable, and incredibly competent. I would recommend Steven to anyone looking for an attorney who cares and gets the job done.
Dr. Peter Benisch
Millburn, NJ
Thank you so much for expertly guiding us through this process.
JOSH AND NAOMI F.
LIVINGSTON, NJ
Thank you so much for helping me close my mother's home. You were the one light that helped me through the difficult journey of completing her Estate.
MEREDITH
WEST ORANGE, NJ
Working with Jeri Karpen and the Bitterman Karpen Law Group has proven to be the best decision time and time again. Jeri is professional, knowledgeable, and has a tremendous sense of urgency. She understands the intricacies of the law and real estate process and never leaves a stone unturned. Besides benefiting from her experience, she surrounds herself with an equally strong team and the bonus is that she is an absolute pleasure to work with. I highly recommend Jeri Karpen and the Bitterman Karpen Law Group.
G. P. , Realtor